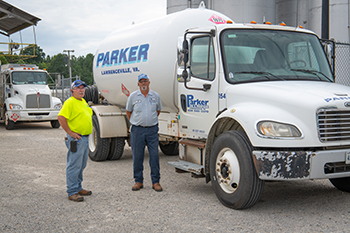 Propane is an excellent, versatile fuel that can improve your comfort while saving you money.
It is less expensive to use than electricity, and it serves a variety of needs, including home heating, gas cooking, clothes drying, gas fireplace logs, pool heating and more.

Parker Oil Company is your hometown propane expert. You can count on us for reliable, prompt delivery and friendly, professional service and support, including automatic delivery. We maintain several bulk storage facilities, so we always have supply on hand. If your propane-fueled equipment breaks down, our highly trained technicians are ready to help with repair or replacement.

If you're using another fuel and you'd like to convert to propane heat, just give us a call at 434-447-3146 or contact us. Converting costs less than you might expect, and we offer financing for qualifying customers. Parker Oil Company is a member of the National Propane Gas Association, Virginia Propane Gas Association and North Carolina Propane Gas Association.