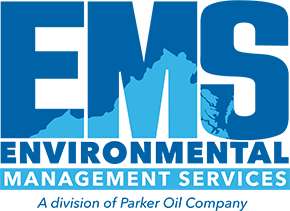 Our Environmental Management Services (EMS) division performs in-situ (in-place) closings of underground oil storage tanks.
We use the Petro Fill® Underground Tank Abandonment Process, which limits costs by eliminating downtime and tank removal work. The process removes the need for excavation and tank disposal, which are expensive processes that require interaction with regulatory agencies.

Instead of removing the tank, we fill it in place. We start with a specially designed compound called Petro Sorb® that absorbs any water, mud or sludge that is left in the tank after removal of the oil (or other regulated substance). We then pump the tank full of a blended polyurethane foam that is inert and causes no "side effect" pollution. The blend provides excellent structural integrity with a tensile strength of 48 psi and a compressive strength of 35 psi. The foam sets like concrete, and there is virtually no danger of cave-in. The foam adds only about two pounds of weight per cubic foot to the tank, so there is very little risk that the ground over the tank will settle.

The tank filling process takes approximately four to six hours for a typical 10,000-gallon tank. In most cases it is unnecessary to remove any concrete paving because the only access needed is through the fill pipe. If the tank ever needs to be removed in subsequent years, standard excavating equipment can be used.


Specialist in Underground Storage Tank Closures
Environmental Management Services is a division of Parker Oil Company, Inc. and has been involved in hundreds of underground storage tank closures and assessments since its formation in 1990. We are the only contractor in Virginia licensed to perform in-situ (in-place) tank closures utilizing the Petro Fill® process.
Fuel Polishing & Tank Cleaning Services
Fuel polishing for all fuels: Gasoline, ethanol blends, Kerosene, Jet Fuel, and Diesel.
Fuel polishing removes impurities in petroleum storage tanks such as water, sludge, rust, and microbial contamination including "Humbug" (Hydrocarbon Utilizing Microorganisms).
Ideal for:
commercial generator tanks
marinas
large commercial storage tanks
Click here to contact Environmental Management Services.