Parker Postings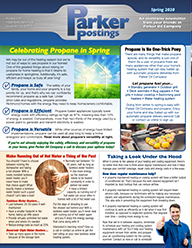 Spring 2020 Edition

Read our seasonal e-newsletter for the latest news, tips and information from Parker Oil Company. To receive this newsletter in your e-mail, sign up for our mailing list below.

This Issue....
Celebrating Propane in Spring
Propane is No One-Trick Pony
Make Running Out of Hot Water a Thing of the Past
Taking a Look Under the Hood
Click here to download the PDF file
Past Issues:
Please note: you must have pop-ups enabled to view/download our newsletter.